The romantic, illuminated landscape of Shiroyone Senmaida (field of a thousand rice paddies).
Jutting out into the Sea of Japan, Noto Peninsula (能登半島) in Ishikawa Prefecture attracts a great deal of attention with its unique culture and spiritual features. Wajima (輪島) is the largest city in the northern part of the peninsula with a population of about 30,000, located 95 kilometers (59 miles) northeast of Kanazawa.
Northern Noto including Wajima was once a remote region, but now it's easily accessible thanks to Noto Satoyama Kaido (のと里山海道), the freeway from Kanazawa. The road to and from Wajima showcases a range of tourist attractions including historic temples, picturesque villages, and stunning coastal scenery. The final stop is the world-famous, terraced rice paddy field Shiroyone Senmaida (白米千枚田), seasonally illuminated by LED lights.
Admire a time-honored
place of worship.
On your way to Wajima, whisk yourself away to Sojiji Soin Temple (總持寺祖院),just off Route 249. This time-honored temple was founded in 1321 as a head temple of the Soto Zen Buddhist sect. Unfortunately in 1898, a big fire destroyed many of the buildings, and after that the temple headquarters were moved to another Sojiji Temple in Tsurumi, Yokohama.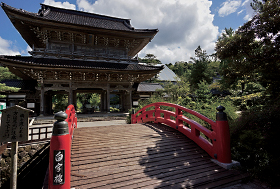 Sojiji Soin Temple Accordingly, this temple became the Soin (father temple). Even now, monks in the temple continue their austere practices every day, including countless-hours' of zazen (sitting meditation).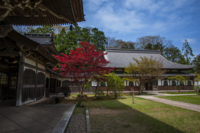 Sojiji Soin TempleStrolling through dignified buildings and beautiful gardens glowing with autumnal colors may make you feel introspective. If you want the total experience, it's a good idea to try out zazen for yourself. Sojiji Soin Temple welcomes anyone to practice zazen, as long as you make a reservation by phone.
Get real insight into Noto's
way of life by driving along
its unspoiled seashore.
Hop on 38 and make a little detour to Kamiozawa (上大沢) and Ozawa (大沢). Facing the Sea of Japan, these classic fishing villages of northern Noto feature unique landscapes with "magaki", the region's traditional tall fence made of bamboo. Magaki is used to protect houses from the strong sea winds during the winter months, but aside from being purely functional, it creates a wonderful ambiance.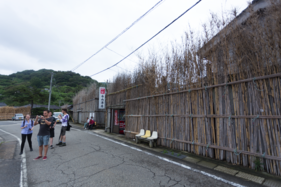 Magaki Village (Ozawa)
Relish the approx. 8-kilometer (5-mile) drive along the unspoiled seashore of Ozawa, pausing at the observation deck en route to enjoy panoramic sea views. It's clearly best in fine weather, but lowering skies and storm-tossed seas also make for dramatic scenery.
Spend some time in Wajima,
a city steeped in salty culture.
Wajima is centered around a harbor on the Sea of Japan, providing a relaxed atmosphere, with plenty to see and do.
Visit the Wajima Tourist Information Center at Michinoeki Wajima (道の駅 輪島) first, and explore the town on foot. After checking out Wajima Kobo Nagaya (輪島工房長屋) where you can observe the traditional techniques of making Wajimanuri lacquer ware, one of the most ancient lacquer crafts of Japan,
visit the old sake breweries of the city at your leisure.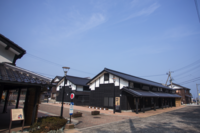 Wajima Kobo Nagaya Crowded with loads of fishing boats, the harbor is also a great attraction, providing fantastic photo opportunities.
Speaking of the harbor, Wajima boasts the freshest seafood around, especially during the winter months. Kano-gani snow crab, a favorite winter delicacy, is the tempting offering of the season. Do try some at a local restaurant or sushi bar.
Wajima Asaichi (輪島朝市), or morning market, is the city's top draw. Believed to date back over a thousand years, it is open almost every day of the year. The venue Asaichi-dori (朝市通り) street is chock full of attractive local products; fresh seafood, vegetables, lacquer ware, and a vast range of souvenirs. Most vendors, including cheerful old women affectionately called obachan, can't speak English, but you can still understand what they are saying via simple gestures and phrases. Enjoy shopping and mingling with the locals.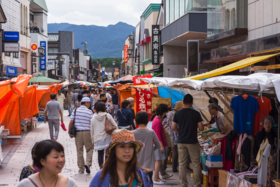 Wajima Asaichi
Be stunned by the illuminated
rice paddies set against
a backdrop of the Sea of Japan.
From the center of the city, drive less than 11 kilometers (7 miles) on Route 249 to Shiroyone Senmaida terraced rice paddies. Local farmers developed these rice terraces over 1,300 years to enhance the productivity of slope fields. Its natural/cultural feature played a major role in Noto's designation as a partner of Globally Important Agricultural Heritage Systems (GIAHS).
After the end of the harvest season, the verdant paddies are instead fascinating for a different reason: the mass-illuminated of the rice paddies set against the backdrop of the sea. That sight should really soothe your eye. From autumn to early spring, a world record-breaking 21,000 solar-powered LED lights edge the 2,000 small terraced rice paddies.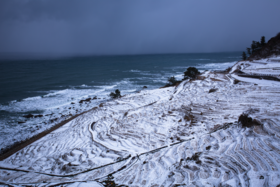 If you're after a snowy white vista, January and February are the best months to visit.
Wajima has a range of accommodations as well as tourist attractions, so you may well want to spend a night here. And an overnight will allow you enough time to enjoy the illuminated rice paddies at night and have a look at the famous morning market the next morning.
Route Overview
Start/Finish: Sojiji Soin Temple to Shiroyone Senmaida
Distance: 40.5km (25miles)
Seasonal Highlights: Autumn is the perfect time to admire this time-honored temple. The romantic landscape of illuminated Shirayone Senmaida (rice paddies) is a must-see for those who visit to Noto in this season.