Enjoy the refreshing atmosphere of Ainokura in Gokayama, one of Japan's UNESCO World Heritage Sites.
Located in a mountainous region along the Shogawa River (庄川), Ainokura (相倉) and Suganuma (菅沼) in Gokayama (五箇山) are renowned as two of Japan's UNESCO World Heritage Sites, boasting enchanting scenery with their "praying hands" gasshozukuri farmhouses.
Gokayama is a short drive from Kanazawa, and having a car allows you to travel village to village at your own pace. If you are just planning a day trip from Kanazawa, we suggest visiting only Gokayama, as by itself it has an abundance of locales to visit. However, you might be tempted to head south to Ogimachi (荻町) in Shirakawa-go (白川郷), a similar (and more famous) UNESCO World Heritage Site up river. Or you may visit Shogawa-kyo (庄川峡), a valley of outstanding scenic beauty down river, which evokes a completely different mood.
The varied landscape and breathtaking scenery are all along the river. Get an early start, and you can whizz through the best parts in a day.
Admire enchanting, fairy-tale scenery in Ainokura.
From the center of Kanazawa, hop on Route 159 and then take Route 304 southeast to Gokayama. Or perhaps take 27 that leads you directly there.
Make your first stop in Gokayama at Ainokura, set far back in the valley. This perhaps loveliest village of the region sits on a terraced plateau above the Shogawa River, connected The group of historic buildings includes twenty gasshozukuri farmhouses, most with the typical four-room square layout.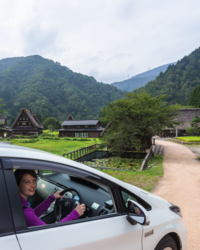 Driving straight into a fairytale village.
Park your car in the parking lot and wander around the village, feeling relaxed and refreshed by the clean mountain air. Make sure to hike up the hill for a beautiful view of the whole village, as it's one of the Gokayama's finest photo spots during foliage season.
In Ainokura, like other villages in the region, a few gasshozukuri houses have been converted into inns, restaurants, or souvenir shops. However, many of them remain private residences where people lead normal lives. Such "living" World Heritage Sites are very unique and not found in other places.
Deepen your understanding of the culture and spirit of Gokayama.
Leaving Ainokura, head to Shimonashi (下梨) interchange and turn left (opposite direction of Suganuma)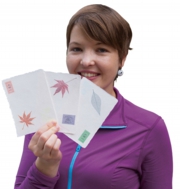 The postcards made of traditional washi papaer.to get on Route 156 toward Gokayama Washi-no-sato (五箇山和紙の里) (see below) which offers a washi making workshop.
From Washi-no-sato, it's a 15 minute drive south which takes you to Kaminashi (上梨). It's a bit of a touristy village, offering some inns, eateries, and shops, as well as a tourist information center. The Murakami-ke House (村上家) is worth a stop.This majestic gasshozukuri house built in the late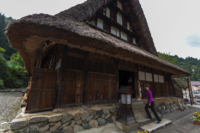 Murakami-ke House16th century has been designated as a National Important Cultural Property and is now open to the public as a folk museum. Visitors get the perfect chance to see the inside of a classic gasshozukuri house from close range.
For something a little off the beaten path, check out Suganuma.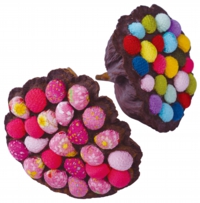 Colorful, delightful, handmade ornaments. (Arai)From Kaminashi, it's a quick hop to Suganuma via Route 156. The site of Suganuma is located on a terraced plateau above the Shogawa River, connected to a parking lot on an adjacent hill via an elevator. Step off the elevator and walk to the right into a tunnel (the left side is mainly for accommodating school groups) leading to the village—the overall view opens up in front of you like a life-sized postcard! Your first impression of the village may be just how tiny it really is. Actually, it may not take you more than half an hour to explore, as it consists of only nine gasshozukuri houses. While away the time sipping a cup of coffee at the cafe, or pop into a colorful souvenir shop.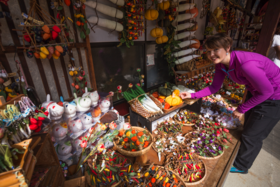 The souvenir shop is full of great gifts and Gokayama souvenirs. (Arai)
One of the world's treasured destinations, Ogimachi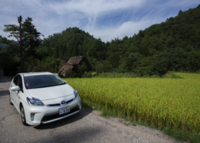 The quiet, rural roads among the rice fields.From Suganuma, Shirakawa-go is about 30 minutes along Route 156.
A German architect Bruno Taut (1880-1938), who visited Shirakawa-go in 1935, developed a high respect for the ancient form of living and architecture, praising it by saying,"This scenery is not typically Japanese. At the very least, it is not the kind of scenery I have ever seen before."
There is a lovely pastoral landscape from Shirakawa-go is a more touristy and popular destination than Gokayama, yet it has maintained and preserved its ancient aesthetics and way of life to even today, attracting more than one million visitors annually.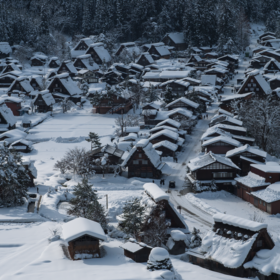 The snow-cloaked village in Shirakawa-go.
Ogimachi is Shirakawa-go's largest village and main attraction, with 59 gasshozukuri houses. Park the car in the tourist parking lot in the village, pick up an English map at the tourist information center, and stroll around the historical village. If you have time, pay a visit to the Gasshozukuri Minkaen (合掌造り民家園), an open air museum across the river from the village center, where a number of farmhouses from the surrounding villages have been relocated. Before or after visiting the village, be sure to drive to Shiroyama Tenbodai Viewpoint (城山展望台) for a wonderful view of the whole village.
Enjoy the glories of the mountainsand waters from a cruise boat.
Visitors may find similarities in these mountain villages with gasshozukuri houses. Those who are searching for a different perspective might head north to Shogawa-kyo from Gokayama.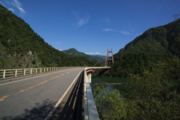 The exhilarating drive on Route 156.
In the olden days, the current of the river was used to carry out the timber cut from the mountains in Gokayama and Hida (飛騨). Now cruise boats travel on the river and let passengers enjoy a one-hour ride, round trip through the valley. A sublime fusion of nature and poetry viewed from one of the boats can delight visitors year round. However, it is said that the autumn leaves and the snowy winter vistas are especially beautiful. If you miss the cruise boats, park your car at the Shogawa Wood Plaza (庄川ウッドプラザ) and walk along the leafy path beside the river.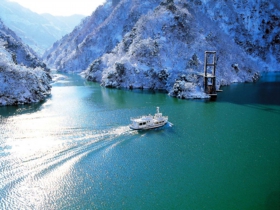 You can enjoy the serene atmosphere during snowy months. (Shogawa Yuransen)
Shogawa-kyo is also renowned as an onsen-buffs heaven. You might well want to stay at a ryokan, a traditional Japanese inn, to relax your soul and mind soaking in the onsen. The area is dotted with many charming ryokan including one that can only be accessed by boat.
Route Overview
Start/Finish: Ainokura in Gokayama
Finish: 60km (Ogimachi in Shirakawa-go (Distance: 32.3km (20miles))
Shogawa-kyo (Distance: 16.6km (10.3miles))
Seasonal Highlights: Each destination boasts colorful foliage in autumn. In winter, you can see the villages enveloped in heavy snow. This is yet another attraction, and the villages of Shirakawa-go and Gokayama organize special illumination events.